Flow of purchase
Step1) Enquiry

Please feel free to contact us for any enquiries!
We welcome enquiries of properties from all other websites!
We are professional in all properties in Shinsaibashi, Namba, and Umeda of Osaka.

Step2) Preparation of site visit

In-depth communication based on your purchase purpose (residential, investment, etc.), budget, area, location, size, and site visit day.

Step3) Site visit

Our real estate pros are pleased to accompany you throughout the process until you meet with your favorite location. Let us answer all your questions and resolve all your worries!

Step4) Confirm your purchase

Fill out a purchase confirmation (to declare your purchase intention to the owner) when you have made your decision.

Step5) Preparation of contract

Our certified associate will explain in detail about the property and contract. We are able to arrange interpreters upon request so as to make sure everything is safe and secure.

Step6) Sign up a contract

Kindly pay a deposit (10% of the purchase amount) and sign the contract. We are going to list up all necessary documents for this procedure, which might be very different from what you expected. We walk you through, no worries.

Step7) Settle the payment and acquire the property

Settle the payment to get the property.

Step8) After sales service

Our service doesn't end simply when you have got your property. There are still follow up procedures, and we are pleased to continue to support you upon requests.
Everything starts when you purchase the property.
We provide a streamlined service you can find in nowhere else.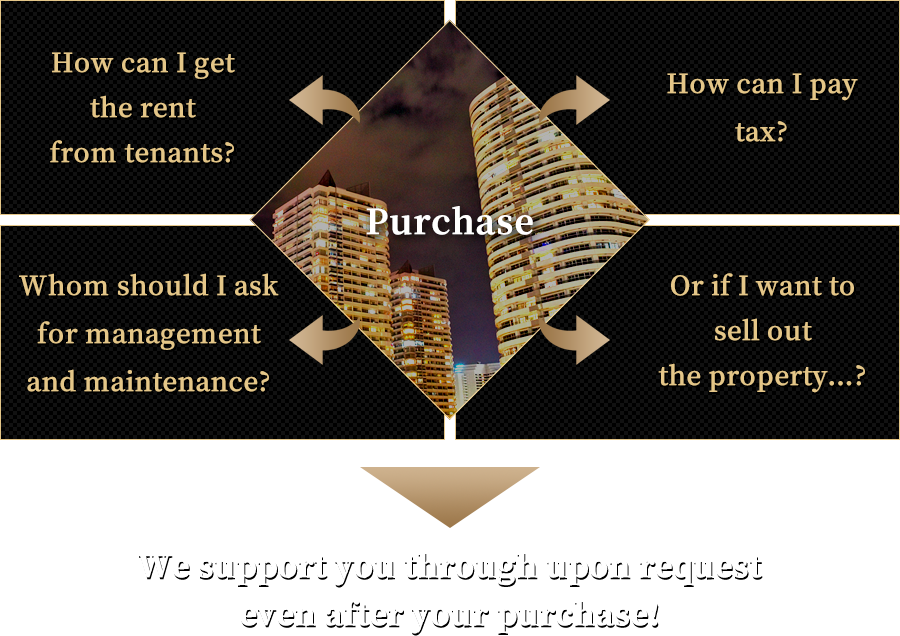 Purchasing a property involves different taxes.
Revenue stamp on purchase contract
Over JPY 100 million - JPY 500 million or below) JPY60,000
Over JPY 500 million – JPY 1 billion or below) JPY160,000
Over JPY 1 billion – JPY 5 billion or below) JPY320,000
Registration and license tax
(Estimated value of fixed asset) x 20/1000
Fixed assets tax / city-planning tax
(Estimated value of fixed asset) x 1.4%
(Estimated value of fixed asset) x 0.3%
Real estate acquisition tax
(Estimated value of fixed asset) x 4/100
Brokerage administration fee
(Purchase amount) x 3/100
(*) Registration administration fee and fire insurance are also needed.
Necessary items for the contract
Certificate of Residence
Personal stamp certificate
Personal stamp
Passport